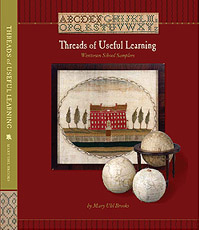 Hello Sampler Friends,
Looks like I wrote this a few weeks ago and never posted it. So...I will post it now and follow it up with another post about the market releases.
I recently received my copy of a new book called
"Threads of Useful Learning"
by Mary Uhl Brooks. I have already read several chapters and I really like the writing style. Easy to read and keeps you engaged. The photos are excellent and show samplers, globes and a few sewing smalls up close. It's an enjoyable read. You might want to check this book out on the Westtown School website.
On another note...the
Nashville Market
is approaching in about 5 weeks and I am sure that all of you are really anxious to see what all of your favorite designers are releasing at market. Several shops already have pictures of the new releases on their websites or in their newsletters. My new releases will be pictured here in a few weeks.
Looks like my last post was in May of 2015. So...I could probably catch you up on what I have been doing.
Home Spun Pin Drum
I taught at the Attic Summer School in August last year and the project was well-received. This piece is a reproduction of an antique pin drum in my collection of needlework tools. I gave a short educational talk on the history of pin cushions and then taught a few specialty stitches and the assembly of the pin drum and mat. I made up the poem to reflect some of the historical names for pin cushions. I am available to teach this class after August 2016. I do have openings for classes this year and next year. I have heard from a few guilds already, so I hope to have an idea of my schedule in the near future.
I also taught in Buffalo at the Examplary Needle Guild in September. I had a wonderful time with all those lovely women in New York. They were excellent hostesses and put up with a few hiccups as this was my first out of town teaching engagement.
I followed that up in November with teaching in Dallas / Fort Worth at the Tudor Rose Sampler Guild. This is a guild that I helped to start in 2000, so I knew a lot of the women who came to the class. It was fun to see familiar faces that I hadn't see in a very long time. I thoroughly enjoyed myself and had a wonderful time with old friends.
This is a very busy time of year, so I best be off to continue with work for the upcoming market.
Keep those needles busy,
Gloria